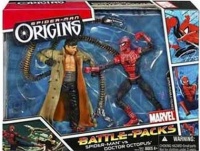 With the incredibly strong performance of Star Wars toys in 2005 and the fact that Hasbro's Marvel license wouldn't kick in until 2007, many observers thought 2006 would be a particularly difficult year for the nation's number two toymaker. And although sales of Star Wars toys have retreated from last year's astronomical heights, they remained surprisingly robust ($69 million for the third quarter, $182 million for the year so far) and according to Hasbro, Star Wars remains the number one action figure property. Meanwhile sales of Hasbro's non-Star Wars lines are up 13%, and in spite of a $58 million dollar drop in Star Wars sales for the quarter, Hasbro's net revenues for the third quarter were up 5%.
While sales of Wizards of the Coast's Magic the Gathering were not singled out as they were for Hasbro's 2nd quarter report (see 'Magic Sales Boost Hasbro'), board games such as Clue and the new Monopoly: Here & Now, which features modern property values and new game markers such as a Toyota Prius and a New Balance running shoe, were cited as key contributors to the company's improved bottom line along with Transformers, and Littlest Pet Shop.
The stock market reacted to Hasbro's earnings report by boosting the company's stock price a robust 8.71% anticipating that Hasbro will prosper in 2007 as its Marvel toy license kicks in and benefits from the release of Spider-Man 3 in May.