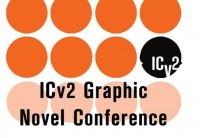 An ICv2 Release. Pop culture publishing and consulting company ICv2 has announced the second annual ICv2 Graphic Novel Conference at New York Comic Con next February. 'The ICv2 Graphic Novel Conference: The New Trends Shaping Pop Culture' will be held on Thursday afternoon, February 22, 2006 at the Javits Center in New York City.
'Graphic novels were the most dynamic area of pop culture again in 2006,' said ICv2 CEO Milton Griepp about the Conference. 'Whether as literature, mass entertainment, or education, the graphic story medium is increasingly the choice. The ICv2 Graphic Novel Conference is where the industry gathers to talk about the future and how to keep it bright.'
Confirmed panelists include graphic novel buyers from specialty retail chains, wholesalers, and comic stores; top executives from manga companies and book publishers; experts from the library and educational markets; a top new graphic novel creator; and more. Among the many notable panelists and moderators are Liza Coppola, Sr. Vice President of VIZ Media, LLC; Regina Kanicki, Graphic Novel Buyer for Baker and Taylor; Michele Gorman, MLS, Young Adult Librarian, Author, Consultant; James Killen, Graphic Novel Buyer at Barnes & Noble; Marisa Acocella Marchetto, the creator of Cancer Vixen; Ed Masessa, Category Manager for Scholastic Book Fairs; Chris Powell -- General Manager, Lone Star Comics; and Calvin Reid, Senior Editor at Publishers Weekly.
Publishers, retailers, librarians, creators, literary agents, and licensors and licensees will all find the ideas they need to inform and inspire their growth for the coming years.
Three sponsors have signed on to support this important event for the future of graphic novels: VIZ Media, LLC; Transcontinental Printing; and Publishers Weekly.
Tickets for the ICv2 Graphic Novel Conference are now on sale on the New York Comic Con Website:
Click here for the New York Comic Con Website
Click here to be taken directly to the registration page.
ICv2 is the undisputed expert in the graphic novel field and covers pop culture in the anime, comics, games, toys, and movie and TV merchandise categories daily on its Website, ICv2.com, and in its magazine, the ICv2 Guide. ICv2 also provides consulting services to companies involved in the business of pop culture.
For more information on the ICv2 Graphic Novel Conference, go to:
http://www.ICv2.com/articles/news/9637.html
For a full list and more information on the panelists at the ICv2 Graphic Novel Conference, go to:
http://www.ICv2.com/articles/news/9638.html
New York Comic Con is managed by Reed Exhibitions (RX), the world's largest organizer of business-to-business events, a division of Reed Elsevier plc.

Each year Reed events assemble over 90,000 suppliers and over 5 million buyers from around the world.

BEA is one

of

many Reed Elsevier properties within the Reed Global Book Publishing Network, whose trade events include the Asia International Book Fair, London International Book Fair, Salon du Livre:

Paris Book Fair, Tokyo International Book Fair and BookExpo Canada, and whose Reed Business Information (RBI) properties include Publishers Weekly, Variety Magazine, Playthings, Video Business, Library Journal, and School Library Journal.
New York Comic Con is not affiliated with any other comic convention event, including any other event having Comic Con in its name.