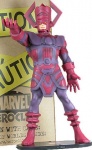 WizKids has announced The Coming of Galactus, a major organized play initiative to be held this summer starting in July, which will support the release of Marvel HeroClix: Avengers. The object of the event is to attract both new, younger players as well as HeroClix veterans. The primary lure will be a repainted version of WizKids' giant Galactus Figure originally issued in 2004 (see 'WizKids Readies Galactus Giveaway'). The repainted Galactus Figure, which will not be sold or offered as a retail item by WizKids, will be the rarest giant figure every issued by WizKids.
During each of the first four weeks of the event, participating retailers will hold two sealed events, one for younger players (14 and under) using simplified HeroClix rules and one for older HeroClix players. Each week, participants will receive an all-new, exclusive HeroClix 'Herald of Galactus' sculpt, beginning with the Silver Surfer.
In week five players under 14 will participate in a Sealed event, the winner of which will receive one of the giant 16.5-inch Galactus figures. The next week all players will be able to participate in a Sealed event using WizKids' official Tournament rules, and the winner will also receive a Galactus figure.
Each qualifying retailer will receive a prize kit to run the entire tournament. Retailers who participate fully and run and report events to WizKids properly will also get a free set of Galactus and his four Heralds for their store when the promotion ends.