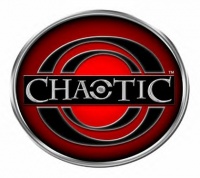 The hobby channel will get a 90-day window before the Chaotic TCG is released to specialty retail or mass channels, according to TC Digital President Bryan Gannon, who we spoke to at GAMA Trade Show (see 'GAMA Trade Show Ends on Up Note'). The new (later) release date for hobby is June 27th (pushed back from May, see 'Chaotic TCG Available May 16th'); mass channels will not receive the product until September. The release pattern for future releases will include a slightly shorter 60 day window between hobby and mass release.
TC Digital Games has beefed up its TCG team by hiring Jason Taitano as Vice President of Product Development and Marketing. Taitano had a similar title at Upper deck, was Director of Games at Score, and most recently was at K2 Licensing and Promotions.
A 4Kids TV promotion to drive traffic to the Website, which kicked off in December, has produced over one million card downloads.
Licensing for Chaotic is also on the move, with several signed to date.