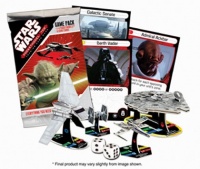 At GenCon WizKids is demonstrating Star Wars Ground Assault, the next installment of its Star Wars PocketModel Trading Card Game. The new Star Wars Ground Assault Booster Packs, which will ship in October, add new ground and space PocketModel units from the Star Wars movies as well as a host of new playing cards.
Using cards and models from the original SWPM TCG release and the forthcoming Ground Assault expansion, players will be able to build their Star Wars forces with all ground units, all space units, or a combination of both. The premier ground unit introduced in the new expansion is the AT-AT, the giant Imperial 'walker' featured in The Empire Strikes Back, but the set also includes a number of battle droids plus cards for the Ewoks and new cards featuring Obi-Wan, Darth Vader and Yoda.
The Star Wars PocketModel TCG combines elements of trading card games and collectible miniatures games by adding three dimensional vehicles, which can be punched out of cards and assembled (see 'Star Wars PocketModel TCG'). Like the first SWPM release, Ground Assault Booster Packs will have an MSRP of $4.99 and will contain 4-8 PocketModel vehicles to punch out, plus six random game cards, 2 micro dice, complete rules and assembly instructions.