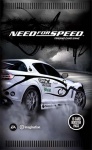 In February, 2008 Imagination Entertainment will release the first series of cards for the Need for Speed Trading Card Game, which endeavors to transform the action of the Electronic Arts Need for Speed videogames into a two-or-more player trading card game duel in which each player uses his own car (card) and racing deck. Each car is rated for 'acceleration,' 'handling,' and 'top speed'--and half the fun of the game is collecting the cards of the coolest cars anywhere and racing them. In addition players face tactical challenges throughout the game that mirror those in the Need for Speed videogames.
The first Need for Speed release contains 148 cards and will be released in Starters (which contain 2 pre-constructed decks, and a rulebook), Themedecks (there will be 3 different pre-constructed 43-card decks), Booster Packs (containing 15 cards in varying degrees of rarity), and Pennyboosters (containing 5 cards).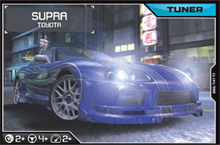 Imagination Entertainment is preparing in-store event kits for retailers for organized play support, and plans a strong marketing campaign in videogame and TCG magazines. Imagination has also set up a cross-promotion with Electronic Arts, which will include sample TCG cards in its Need for Speed releases.