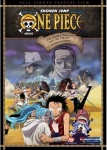 FUNimation Entertainment has announced that it has acquired the North American licensing and merchandising rights to the One Piece anime series from Toei Animation Co. Ltd. In April of last year FUNimation acquired the home video and TV rights to the One Piece anime series that had originally been awarded to 4Kids Entertainment (see 'One Piece to Cartoon Network').
Based on the manga series by Eiichiro Oda (published here by Viz Media), the One Piece anime is one of the most popular anime series in Japan, where nearly 350 episodes have been broadcast. FUNimation, which is currently seeking partners for One Piece in all the key categories of licensing including toys, games, and collectible figures, is quite experienced in the field of brand management having functioned very successfully in that role with another key Toei anime property, Dragon Ball.
While 4Kids' version of One Piece, which was edited to conform to Saturday morning standards, was never a ratings success in the U.S., the series has performed better on the Cartoon Network in FUNimation's far less edited version, which debuted last September on the Saturday night Toonami block. 4Kids produced 104 episodes using material from the first 143 episodes of the Japanese series, while FUNimation began producing its episodes starting with what was the 144th Japanese episode. FUNimation is also releasing the One Piece movies staring with One Piece Movie 8: Episode of Alabasta: The Desert Princess, which is due out this week.
In May FUNimation will release the first unedited One Piece bilingual box set, which will include 13 episodes and have an MSRP of $49.98. The uncut box set will restore the characters' original names (the FUNimation TV episodes kept the 4Kids name changes to provide continuity for TV viewers).