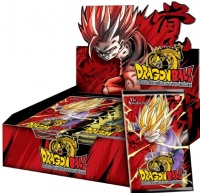 Bandai Collectible Games has announced that The Awakening, the second release for its Dragon Ball Collectible Card Game will be released on October 17th. The Awakening is a boosters-only expansion that adds 100 new cards to the game and features all new artwork never released before in the United States. The new set features all the top Warriors from the Dragon Ball and Dragon Ball Z universes, but concentrates on "The Awakening" of new more powerful forms of those characters.
Last weekend Bandai launched the new Dragon Ball CCG, which draws on all three Dragon Ball franchises (Dragon Ball, Dragon Ball Z, and Dragon Ball GT) and has already been a hit in Asia and Europe (see "Bandai Announces 'Dragon Ball CCG').
Each 10-card The Awakening Booster Pack (MSRP $3.99) will include one Holographic foil card, one Gold-stamped rare card, two uncommon and six common cards. The series includes four Super-Rare Gold-Holographic foil inserts one of which will be found in an average of one out of eight booster packs. Each card in The Awakening series will carry a "1st Edition" mark.
The more powerful forms of characters in The Awakening include Super Saiyan versions of Gohan and Vegeta, a 2nd form of Cell, a full power form of Frieza plus Androids 19 and 20.