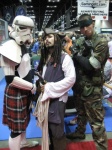 Gen Con Indy, North America's largest game show, went off without a hitch last weekend despite the challenges posed by a weak economy, high gas prices, and the Chapter 11 filing of the show's organizer (see "Gen Con Files Chapter 11"). Although no numbers have been released, attendance at Gen Con Trade Day on Wednesday looked up to us, and Thursday and Friday on the show floor appeared to be at least as crowded as in previous years.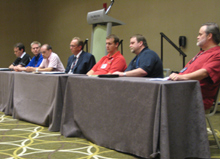 Gen Con Trade Day added three programming tracks this year; a second retailer track, a librarian track, and a game company track joined the retailer and educator tracks from last year.
Programming was also extended into the morning on Wednesday.
The final panel of the day was a discussion of the "Future of the Hobby Channel,"
followed by a cocktail reception.
PSI hosted its signature Game Night to better-than-expected attendance, with numerous game tables where GenCon Trade Day attendees tried out the games being introduced at the show. Z-Man's Zev Shlasinger was hosting the table with the most heat when we were there, demo-ing Agricola (see "Knizia Captures Kudos for 'Keltis'") to a maxed-out group with those that couldn't find a place at the table standing behind players observing the game.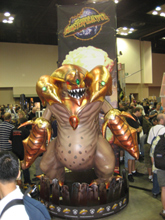 On the floor, Wizards of the Coast's
Magic: The Gathering Dragon Box
and Privateer's
Monsterpocalypse
, both sold in limited daily quantities, seemed to be generating the most excitement.
Electronic games continued to have a significant presence, with booths that may have been a little less elaborate but similar or greater square footage. In a sign of the highly competitive market conditions, one major introduction from last year that had a big booth supporting it in 2007, Eye of Judgment from Wizards of the Coast and Sony, was totally absent this year despite the crowds that mobbed the booth last year.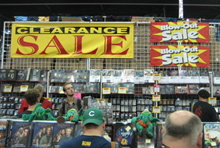 Although it didn't feel recession-y in the exhibit hall based on traffic or booth sales, there were a number of booths closing out bulk unsold merchandise, including Marcus King's
"Buy one, get three free" promotion for 3.0/3.5 RPG products.
Gen Con had a number of memorial events for the recently deceased Gary Gygax (see "Gary Gygax, 1938-2008"), who could be argued to have founded the hobby game industry that made Gen Con possible. A moment of silence was observed in the exhibit hall at noon on Saturday, along with "The Tower of Gygax," an AD&D game that ran from 10 a.m. Thursday continuously until 3 p.m. on Sunday, a memorial book, a memorial plaque, and other events. All proceeds from event ticket sales and other Gygax memorial events went to Fisher House, a charity favored by Gygax.