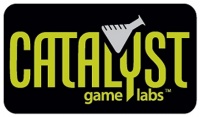 Catalyst Game Labs, manufacturer of the newest versions of the Shadowrun and CthulhuTech RPGs and Classic BattleTech game (see "Catalyst Game Labs to Publish 'CthulhuTech'"), has announced a pair of new casual games scheduled for release late this year.
Paparazzi will be Catalyst's first entry into the field. The card game casts players as celebrity-hounding paparazzi, competing with each other to take the best pictures of the biggest (and most controversial) stars in Hollywood. Players simultaneously build up their archetypical celebrities (like "Pop Star Princess" and "Aging Rocker") making them worth more points to stalk, while also trying to block other players from getting the scoop on their media monsters. The game is designed by Adam Jury, who previously worked on Catalyst's Shadowrun and BattleTech games. Releasing in October or November, Paparazzi comes with 110 cards, will be packaged in a slide-out box with room for expansion cards, and will retail for $20 to $25.
Ooze the Cook is a light-hearted "beer and pretzels" game where up to four players take on the roles of slimes and jellies living in a tavern, trying to grow large enough to eat the tavern's patrons and cook. The game features several random elements meant to symbolize the Oozes' lack of cognitive thinking. The art for the game will be provided by John Kovalic (Dork Tower, Munchkin). The game is scheduled for a late 2008 or early 2009 launch and will have an MSRP of approximately $40.
These two games are a marked departure from Catalyst's usual RPG and "heavy gamer" fare. "As a company, we have this great ability, with all of the designers and all of the artists and authors that we work with, that we can expand into other areas," said David Stansel-Garner, Catalyst's Operations Manager. He went on to say that Catalyst has "several card games in the works, in addition to several board games…high-quality, real 'fun' games."