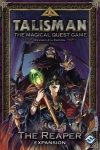 Fantasy Flight Games has slotted its January releases. Creatures Anathema is a 128-page, full-color hardcover bestiary for the Dark Heresy Warhammer 40,000 RPG that includes complete details and descriptions of each monster, plot hooks, and story ideas, as well as rules for unusual alien equipment and new character options. MSRP is $34.95.
Talisman fans will welcome the first expansion for Fantasy Flight's revised Fourth Edition of the game (see "Revised 4th Edition 'Talisman Board Game'"), The Reaper (formerly Death and Glory). It adds four new characters, 128 new cards, and the Grim Reaper himself, whom players can take control of in their efforts to hinder their opponents. MSRP is $24.95.
The Brood War expansion for Starcraft: The Board Game also adds several new concepts, such as faction customization, mighty heroes to turn the tide of battle, and scenario play. MSRP is $59.95.
For AT-43, January will see the release of Two Unit Boxes (Ravager and Warmonger), along with two different Warmonger Attachment Boxes and an A-volution Heroes Box. All products have an MSRP of $29.99. Confrontation fans also get two Unit Boxes (Paladins and Reapers), at $24.99 a piece, an Attachment Box for each ($19.99) and a Nefarius Prime Unit Box ($34.99).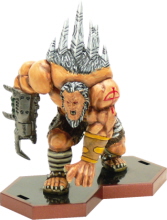 Also on the miniatures front, three
Anima: Tactics
will be introduced, one each for the faction of Light (
Saint Hazael
, $19.99), Dark (
Shinigami Ayl
, $9.99), and the Neutral faction (
Griever
, $14.99). The new non-collectible
Mutant Chronicles Miniatures Game
(see "
'Mutant Chronicles CMG' Format Change
") will get two-packs for the
Bio Giant/Advanced Bio Giant
($14.95) and
Dragoon/Dragoon Kapitan
($12.95), and individual figures for
Battlesuit Prototype
($14.95),
Mitch Hunter
($12.95),
Max Steiner
($12.95), and
Security Specialist
($12.95).
Each of FFG's Living Card Games also gets an update in January. Call of Cthulhu: The Terror of the Tides concentrates on the Arcane struggle, while A Game of Thrones: Shattered Armies focuses on the remnants of once-great fighting forces in the aftermath of the war in Westeros. Each expansion pack contains 40 cards (20 unique) and retails for $9.95.