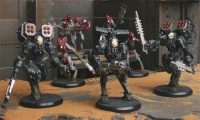 Rackham has revealed the broad outlines of its 2009 releases for AT-43 and Confrontation. It plans two new armies for AT-43 and three new armies for Confrontation as part of its plans for simultaneous releases in the U.S. and Europe beginning next year (see "Rackham Plans Simultaneous Releases").
The AT-43 armies will be Cogs, launched in Wave 11; and Oni, in Wave 15. Wave 10 will include Dotch Yaga. Rackham also plans to release its first AT-43 novel early in 2009; Code White will be the first volume in a planned trilogy.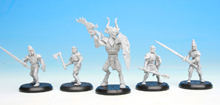 New
Confrontation
armies will include the
Lahnars
, the first Lions faction, in Wave 10;
Ram
, which will be introduced in an army book that will describe the first four obscure houses of Acheron:
Brisis, Hestia, Mantis, and Vanth; and the
Daikinees
(Scarab) in the second half of 2009.
Rackham also plans a Rackham Legends line, resin figurines released on a monthly basis; and Rackham Model Kits, plastic kits to be mounted and painted.
The company will also release a second board game in 2009. Cadwallon: The City of Thieves board game will use the same mechanics as the Okko board game, released here by ASmodee (see "Okko Board Game Due in August").