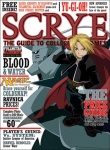 ICv2 has learned that F&W Media has decided to end publication of Scrye magazine. The April 2009 issue, #131, will be the last. The rising cost of producing the magazine along with declining subscriber and advertising bases were the reasons cited by current Scrye editor Joyce Greenholdt for shutting down the magazine. Founded in 1993 by Joanne White, Scrye was the longest running periodical reporting on the collectible game market and a key source of secondary-market prices for individual Magic and other CCG cards. In recent years Scrye has added coverage of collectible miniatures games.
White sold Scrye to Krause Publications in 1999. F&W Publications of Cincinnati, Ohio acquired Scrye when it purchased Krause in 2002 for $120 million (see "Krause Publications Sold for $120 Million"). In 2006, on the seventh anniversary of Krause's acquisition of Scrye, F&W acquired the Gaming Report Website, which henceforth served as the official website for the magazine (see "F&W Acquires Gaming Report"). Scrye is not the first game-related Krause publication that F&W has shuttered. In November of 2007 F&W ended publication of Comics & Games Retailer trade magazine (see "Comics & Games Retailer RIP").
The demise of Scrye testifies to continuing softness in the collectible card game market and to the overall effect that the current recession is having on magazines of all types.