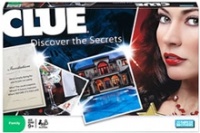 Gore Verbinski, who accomplished the unlikely feat of turning an amusement park ride into a billion dollar motion picture franchise, is about to attempt to do the same thing with a board game. According to The Hollywood Reporter Verbinski is in final negotiations with Universal to direct a new feature film based on the perennially popular board game Clue. A year ago Universal and Hasbro signed a pact to work together to develop movies based on Hasbro-owned properties, and Clue is considered to be one of the most promising of those properties.
In fact Paramount did make a movie based on Clue some 25 years ago. It starred Christopher Lloyd and Madelaine Kahn and was as much a campy comedy as it was a mystery. It also featured three different endings (with different murderers) with three different versions released to theaters.
Verbinski is currently directing the animated feature Rango for Paramount, so Clue may not be the first Hasbro board game to reach the silver screen since Ridley Scott is working on an adaptation of Monopoly (see "Ridley Scott to Direct Monopoly"), Etan Cohen is writing an adaptation of Candyland (see "Board Game to Big Screen"), and Michael Bay's Platinum Dunes has announced an Ouija Board movie.