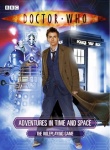 The long-awaited Doctor Who RPG from Cubicle 7 will be released in October. Cubicle's Doctor Who: Adventures in Time and Space (MSRP $59.95) is the third licensed Doctor Who RPG. FASA published one in the 1980s, which was followed by a Virgin Publishing release in 1991. Cubicle's new Doctor Who RPG is based on the current iteration of the popular BBC TV series, and features lots of full color pictures from the show.
Cubicle's Doctor Who RPG, which was created to appeal to both the experienced and first time gamer, comes in a deluxe box set that contains a 144-page Gamemaster's Guide, an 86-page Player's Guide, a 30-page Adventures Book, 4-page Quick Start Guide, Pre-Generated Character Sheets, Blank Character Sheets, Gadget Sheets, tokens and dice.
The new Doctor Who RPG was written by David Chapman, who penned several of Eden Studios' products (see "Cubicle 7 Plans Doctor Who RPG"). Like the show's Timelord, players in the game can visit any era of history and range across the universe, though they have to keep a wary eye out for Daleks, Cybermen, Sontarans, Plasmavores, Slitheen and others.