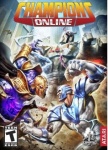 Atari and Cryptic Studios, creators of the acclaimed City of Heroes and City of Villains, have joined forces to launch the Champions Online MMORPG in September. Based on the HERO System of pen and paper role-playing game, the Champions Online for PC game features fast-paced, real time action combat and powerful character customization tools.
Cyrptic Studios not only created City of Heroes, it also collaborated with Marvel (see "Marvel and Cryptic Reveal Unveil Marvel Universe Online") for over 2 years in an ill-fated attempt to create a Marvel online game (see "Marvel MMORPG Is Dead"), and the company's long immersion in the world of superhero gaming has resulted in some clever gameplay tropes in the Champions Online game such as the creation of an exact opposite to a player's superheroic avatar. This ultimate adversary can appear throughout the game and even form diabolic super groups to attack the hero and his or her allies.
The Champions Online game enters a highly competitive market still dominated by World of Warcraft, but it appears that the PC Version of the game (MSRP $49.99) will get good mass market distribution since it will be available at Wal-Mart, Game Stop, Best Buy, and Amazon on September 1st. A Champion Online Xbox 360 version (MSRP $59.99) is due out on September 30th.