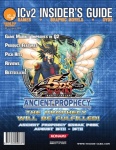 The hobby game market improved in Q2 2009, according to a report in the recently released ICv2 Insider's Guide #68. Conservative ordering has kept inventories low at retail, but as a result, sell-throughs are good and restocks frequent, according to distributors and retailers interviewed for the report, leading to relatively healthy hobby game stores despite the ferociously bad economy.
Board games continues to be the category with the most heat, with retailers and distributors across the board still reporting increased sales.
Collectible Card Games as a category are bouncing off the bottom, with the top brands getting most of the benefit: Magic: The Gathering and Yu-Gi-Oh! in the hobby, and Pokemon and Yu-Gi-Oh! at mass.
The Collectible Miniature Games category is still churning, with no replacement for HeroClix, the anchor brand, and Monsterpocalypse dropping off after its launch due to product configuration changes.
Both of Games Workshop's miniature lines are doing well in North America, with more friendly packaging and assortments making the line easier to handle at all levels.
The roleplaying game category remains deeply troubled, with most brands down, and the gap between Dungeons and Dragons and the rest growing.
For the lists of the bestselling Collectible Games in the hobby channel, in the mass channel, and over-all, click here.
For the bestselling board, card, and family games in the hobby channel,
click here
.

For the bestselling RPGs in the hobby market, click here.


For the bestselling non-collectible miniature games in the hobby channel, click here.
For info on how to get your copy of the ICv2 Insiders Guide #68, with the full market reports, Pick Hits of the best upcoming releases, and reviews, see "ICv2 Releases 'ICv2 Insider's Guide' #68."