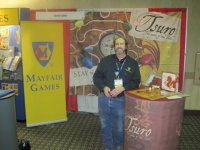 Calliope Games, the family game imprint of Compound Fun (the new company formed by WizKids' alumni last year, see "New Minis Game from WizKids Alumni"), will now be published by Mayfair Games under the new brand Funfair, the companies announced at GAMA Trade Show. The first title from the new company is Tsuro, originally published by WizKids, with a new edition released by Calliope last year.
Around a dozen new games are under development for Funfair release, with the companies currently determining whether to release them in stages or together as a large-scale launch for the brand.
Miniature game Arcane Legions will continue to be published by Wells Expeditions.