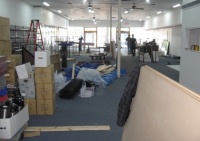 View from the Game Store is a weekly(-ish) column by Marcus King of Titan Games & Music in Battle Creek and Kalamazoo, Michigan. This week, Marcus talks about moving his store, what's been selling for him so far this year, and plans for the summer convention season.
Well, it's been about 10 days since we last updated our column and the process of "moving" our Battle Creek store is well under way. New photos, so you can see the progress.
Adding a small thing like a "cafe" has been a lot more than I anticipated. So far, we have the packet to fill out for the Health Department approval process, so we can serve food. And we have gotten our initial fire safety inspection, though that was more of a chance thing. The Fire Marshall showed up for our annual inspection, and we asked him to take a peek at the new place to tell us what we were lacking. Pretty much, other than filling in a couple new ceiling tiles and buying three fire extinguishers, we are in great shape.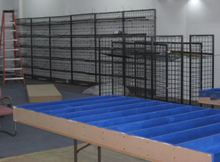 But before we could sell coffee and a bagel, we have to get wiring, plumbing and construction all approved before we can actually do the wiring, plumbing and construction. Meanwhile, we are getting close to our "we might as well move" point--that point being the threshold where we could move the retail store and then add the cafe stuff later. As of this writing, we still need to assemble and paint, as well as install, 12 more new bookcases. But, we have most of our gridwall installed and ready.
Filling the place with products will be a bit more of a difficulty, as we have so much more room than in our old store--that we will have to buy a lot of new products. Things like model kits, puzzles, rocketry items, pinewood derby stuff, metal detectors, rock tumblers, paintball equipment, and much more!
However, the real work has not begun yet. That will commence when we decide to close the store we are in, and move all the stuff. 10 big glass display cases. 14 comic book racks, 12 bookcases and 32 other racks and cases (not to mention all the stuff
on
them), our desks and our shipping supplies. Ugh, the camera system, our computers and all that stuff, too. Wow, maybe we aren't that close to moving yet, after all.
This spring has been great in sales at both of our stores. The new
Magic: The Gathering
release has done really well--and
Worldwake
and
Zendikar
are both still selling strongly, too.
Warhammer 40,000
has continued to grow in sales, and participation in our leagues and tournaments. And, the post-tax return season has seen a nice increase in our video games sales--mostly due to the fact we have been buying so many used systems and games the past 6 weeks!
We have seen a renewed interest in the
HeroClix
line of miniatures, and in board games in general. And, the Kalamazoo store has had a nice bump with the end of Western Michigan University's semester. We have been dealing with the students moving away for the summer and with the huge amount of influx of used games, DVDs and other items from those departing students. Though, the loss of foot traffic at that store has been alarming, the summer semesters begin next week! YEA!!!
As a shop owner, this will be the first year in 12 that I have not attended both Origins and GenCon--and the first time since 1986 that I actually am not attending one convention this year to make sales. I may be attending Origins this year to do seminars for GAMA (Game Manufacturers Association) and their retail division. If you are thinking of owning, buying or opening a game store, GAMA is offering a slate of seminars this year at Origins that will help you (go to GAMA.org for more details on GAMA, Origins and the seminars).
Okay, although both of my hands are skinned up from building, moving, painting and installing the bookcases, I have to get back to work before my new business partner, John DuBois, starts realizing I have been gone so long. More seriously, I am lucky to have a business partner like John, who can build the bookcases. And I am lucky I can get by with just painting and installing them.
Stop by and see the new place if you get to Michigan.
The opinions expressed in this column are solely those of the writer, and do not necessarily reflect the views of the editorial staff of ICv2.com.