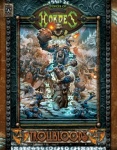 Privateer Press will release a Trollbloods rulebook and miniature for Hordes in September. The new faction rules, Forces of Hordes: Trollbloods, will be presented in two 112-page editions, a softcover at $31.99 and a hardcover at $41.99. The volumes will include new troops to bring to the fight, plus an all-new warlock; a painting and modeling guide; an in-depth look at the history and structure of the trollkin kriels; and Trollblood Theme Force lists and rules.
Also due for release in September is Trollblood Captain Bunnbjorn, a 5.5" miniature of the new warlock.
Privateer is launching the new edition of the Hordes ruleset in July (see "Hordes: Primal MKII").