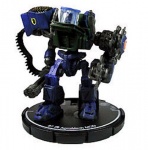 In its first two weeks of release the MechWarrior: Dark Age Collectible Miniatures Game has sold more than 500,000 Booster Packs and 100,000 Starter Sets. Coming hard on the heels of WizKids' hugely successful Marvel HeroClix CMG, the strong debut of MechWarrior gives WizKids two major hits in one summer season. And with the DC HeroClix Game and an expansion for the Marvel HeroClix on tap for the fall, 2002 definitely looks like a banner year for the company that originated the modern collectible miniatures game. The first science fiction CMG, MechWarrior benefits from some of the coolest miniature designs that WizKids has ever produced as well as from continuing fan interest in the Battletech/MechWarrior universe.
Set two and a half generations after the end of the classic Battletech storyline, MechWarrior chronicles a new dark age of robot warfare that was precipitated by the demise of a galaxy-wide communications system. The original Battletech property included board games, PC games, console games, virtual-reality simulators, miniatures, and a Saturday morning cartoon series, as well as continuing series of science fiction novels and RPG products (see 'Fast Forward To Distribute Battletech'). The continuing strength of the Battletech/MechWarrior property is at least partially responsible for MechWarrior's quick start.
Pop culture retailers who deal in science fiction or comics should seriously consider carrying the appropriate WizKids releases if they don't already do so.

Even stores that, because of size or inclination, don't take advantage of WizKid's solid support of in-store gaming events should think about at least carrying the HeroClix games, which have a strong appeal to comic book fans simply because of the cool superhero figures in every starter set and booster pack.