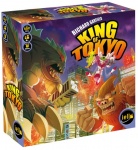 The Paris-based Iello has announced the March release of Richard Garfield's King of Tokyo (MSRP $29.00), a new board game from the creator of Magic the Gathering, The Great Dalmuti, and Robo Rally. King of Tokyo is a kaiju-themed "monster" board game where the objective is the destruction of the city ravaged by on screen by all those Toho monsters. Players take on the roles of mutant monsters, giant robots, and other monstrous creatures all of whom are happily engaged in whacking each other and attempting to become the "King of Tokyo."
King of Tokyo is designed for 2-6 players ages 8 and up. It is a fast-paced game that takes just 30 minutes to play. Every turn each player roles six dice. Each die has bears six symbols: 1, 2, or 3 Points of Destruction, Energy, Healing, and Whack. Players get three successive roles and choose whether to keep or discard each die in order to come up with the right combination that enables the acquisition of destruction points, the hoarding of energy, the restoration of health, and the whacking of opponents.
The King of Tokyo game box includes 66 game cards, 1 game board, 6 monster boards, 6 monster tokens with plastic stands, 8 six-sided dice, 50 energy tokens, 28 tokens, and a full color rulebook.