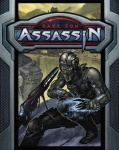 Mongoose Publishing plans to release a new solitaire boardgame in September entitled Dark Eon Assassin. This new game will be part of a Mongoose's planned series of board games.
Dark Eon Assassin places the player in the role of a genetically engineered assassin, sent to infiltrate the "Tyrant's" palace and eliminate a maniacal ruler. The player chooses from an armory of high-tech equipment and weapons, and must contend with numerous traps and guardians in order to succeed.
The game will be packaged in an 8 inch by 11 inch box. Designed by Matthew Sprange. Suggested retail price will be $49.99.