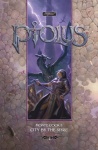 Print-on-demand and e-book publisher DriveThruRPG has joined with fan-favorite RPG author Monte Cook to republish all of his Ptolus books as part of its "Now in Print" program. ICv2 spoke with Matt McElroy of DriveThruRPG about the program.
All of Monte Cooks' Ptolus books will be available in both pdf and print versions, including the massive core book Ptolus: Monte Cook's City by the Spire, albeit in a new two-volume format. McElroy explained the reason for the change:
"It is the complete book. We just had to divide it into more manageable pieces. When you order the book, you get both volumes. We do not sell them separately. It's the same book that came out originally years ago, it's just in a more manageable size."
The two volume hardcover print version of
Ptolus
has a suggested retail price of $150. Monte Cook considered
Ptolus
to be his RPG masterwork when it was released in 2006. See "
Monte Cook Takes Victory Lap
." The book uses the 3.5 version of the d20-based
Dungeons & Dragons
system, with what are commonly called the "Monte Cook tweaks."
Other Monte Cook RPG books will also be included in the program, including titles such as The Book of Iron Might, The Book of Hallowed Might, and Arcana Evolved, among others. These titles will take advantage of the new possibilities offered by DriveThruRPG's print-on-demand process. McElroy described some of the new options:
"The neat thing about this particular book is that the new printing technology allows us to do multiple formats. We have softcover, hardcover, black and white, and full color. So a customer has multiple options to choose from, based on their needs, based on their budget."
McElroy stated that Cook is planning to release new RPG titles through his company Malhavoc Press, but it has not been decided if those titles would also be available through DriveThruRPG. He also indicated that a decision has not been made if the older titles would be put into distribution, or if they would only be available direct from DriveThruRPG.