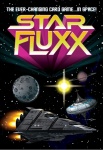 Looney Labs is offering two advanced demo kits and special "X-displays" for its new Star Fluxx and IceDice games, both set to release September 30th.
The Star Fluxx advanced demo kit contains one Star Fluxx demo copy, an 11"x17" Star Fluxx poster, A Star Fluxx playmat, and a 25-pack of "Android Doctor" promo card postcards.
The Ice Dice demo kit contains an IceDice demo copy with a pyramid shaped, zippered pouch, a Looney Pyramids poster, IceDice playmat / Launchpad 23 playmat and 25-pack of "Press Your Luck" promo card postcards.
Both the advanced demo kits are available only through Looney Labs directly at a cost of $10 each.
In addition, Looney Labs is offering special "X-Displays" for the launch of these games. An "X-display" is a normal 6-pack game display that also includes a demo copy of the game, poster and playmat for the normal price of a display. Retailers may then purchase the promo card postcards for $7.50 at any time to use to promote their stores through prize support, gaming, purchase bonus, and events.
The X-Displays are only available for preorder through distribution and only until the preorder cut-off date of September 2nd.