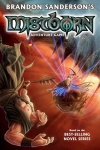 Crafty Games will release a new RPG, Mistborn Adventure Game, based on the novels of Brandon Sanderson. The initial release on December 15 will include two print versions and a digital version.
The game is set in Scadrial, the fantasy world of Sanderson's novels, and features an all-new rules engine focused on story. The first book will also include never-before-published background material about the setting and new fiction by Sanderson. It is intended to appeal to fans of the Mistborn novels as well as role-players.
A softcover "Retail Edition" will be available through hobby distributors, with a suggested retail price of $34.99. A more deluxe hardcover edition will be available directly from Crafty Games at a price of $44.99. The digital version will release at the same time for $14.99. A novella, A House of Ashes, will be included with the digital version of the game.
To support the release, Crafty Games will be running a series of on-line demo games through Infrno though the month of December.
The
Mistborn Adventure Game
was originally announced for release in 2009 (see "'
Mistborn RPG' on the Way
"), but was substantially delayed. The final release date was scheduled to coincide with the release of the new
Mistborn
novel; the new Sanderson novel,
The Alloy of Law,
was released in November.
Crafty Games also publishes the Spycraft and Fantasycraft role-playing games.