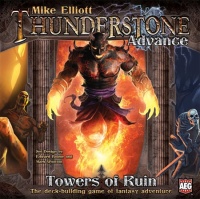 AEG has announced a new release for its bestselling deck-building adventure game, Thunderstone Advance: Towers of Ruin, a revised, fully compatible new core game with many new additions.
Thunderstone Advance will offer new artwork, new game mechanics, and even new improved card layout for easier play and a fresh new look. A revised rulebook will not only compile all rules clarifications to date, but will also offer a "learn to play" booklet for new players.
More than 500 cards are included – including new card types. The set will introduce friendly "Familiars" to help the heroes in their quest as well as the new "Thunderstone Bearers" to challenge them. In all, nine new monster groups will be introduced as well as 11 new heroes to choose from and 19 different village cards. A two-sided game board is included with two challenging dungeons.
For the first time, AEG will also support the game with a compelling plotline that will drive the game forward and immerse the players even further into the world of Thunderstone. Perhaps most importantly to current players, Thunderstone Advance will be compatible with every Thunderstone expansion to date. In fact, the box will be able to store all expansions in addition to the Thunderstone Advance cards.
Thunderstone Advance: Towers of Ruin will be for one to five players ages 12 and up and will play in around 45 minutes. It will retail for $49.99. Release date is set for March.