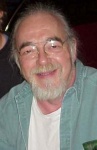 Wizards of the Coast will reprint limited premium versions of the original
Advanced Dungeons & Dragons
rulebooks by Gary Gygax to help support the Gygax Memorial Fund. The new editions will be released in limited quantities exclusively for the hobby channel on April 17, 2012. They'll include the original art and content with new cover designs commemorating the re-release.
The three core books being released are:
1st Edition Premium Dungeon Master's Guide
, a 240-page hardcover at $44.95
1st Edition Premium Player's Handbook
, a 112-page hardcover at $34.95
1st Edition Premium Monster Manual
, a 128-page hardcover at $34.95
The Gygax Memorial Fund was set up by the late Gary Gygax's widow Gail to raise funds to erect a memorial to Gygax in Library Park in Lake Geneva, Wisconsin (see "
Gen Con Auction Supports Gygax Memorial Fund
").