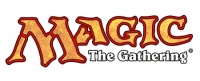 Hasbro CEO Brian Goldner told analysts in the company's conference call this week that Magic: The Gathering is "…the largest game brand in the U.S." (apparently excluding videogames from the comparison). And for the first time, a Hasbro exec has characterized the size of the brand, implying that it's $200 million or more. In praising the Wizards of the Coast management team Goldner noted that the team had taken Magic, "which totaled less than $100 million in revenues in 2008 and was on the decline, to where it is today,… more than double the size it was just three years ago."
Hasbro disclosed that
Magic
had doubled in the last three years at its Investor Day last fall(see "
'Magic' Doubled Since 2008
"), but no scale had been assigned to the brand.
It wasn't clear exactly what the number for Magic includes, but we assume it's a combination of wholesale CCG revenues and licensing revenues for videogames and other products. Regardles, it means that Magic: The Gathering is a strong nine figure brand, an impressive accomplishment for WotC and its management.
The discussion of
Magic
was in the context of Hasbro confirming that it missed its original expectations for Q4 and the year. Revenues for the year were up 7% to $4.29 billion, but profits declined 3% to $385 million. The miss had been warned, and was due to a rough holiday season post-Thanksgiving (see "
Hasbro Sales Miss Expectations
").