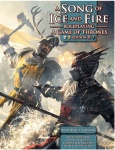 Green Ronin Publishing has announced a new core rulebook for its A Song of Ice and Fire Roleplaying game and the third boxed set for the Dragon Age Roleplaying game.
The A Game of Thrones Edition is an updated and deluxe version of the current rulebook for A Song of Ice and Fire Roleplaying. The 320-page hardcover book includes revised rules that reflect changes to the game setting caused by events in A Dance with Dragons, as well as new artwork, a new cover by artist Michael Komarck, and a complete 100-page adventure. The book is scheduled to release in May, with a $49.95 suggested retail price.
The title of the new edition was chosen to tie in with the popular HBO series. As Chris Pramas of Green Ronin explained at GTS, "That gets the phrase Game of Thrones on the cover so people can connect it to the TV show."
A Night's Watch sourcebook is also planned, which centers on the activities of John Snow and the defenders of the Wall. This book includes rules for players to set up campaigns that focus on Night Watch members, as well as details about the order's history, organization, and chief personalities. The Night's Watch is scheduled to release in the summer.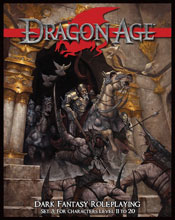 Also during the summer, Green Ronin plans to release the third boxed set for its
Dragon Age
RPG
. This boxed set is currently in open playtest, which is expected to finish soon. These rules will cover character development through levels 11 to 20, and includes new talents, spells, monsters, and treasures for the game. The suggested retail price will be $39.95.