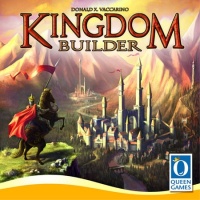 The winners of this year's Spiel des Jahres, long-recognized as the premier award for game design in the world, have been announced and the big winner is Donald X. Vaccarino's Kingdom Builder, published by Queen Games.
When the votes of the eleven Spiel des Jahres jurors were tallied, Kingdom Builder edged out its two co-nominees Eselsbrücke (Schmidt Spiele—Stefan Dorra and Ralf zur Linde) and Vegas (Alea—Rüdiger Dorn). This is Vaccarino's second Spiel des Jahres game, following on his 2009 win with the popular and critically acclaimed Dominion.
Kingdom Builder
was launched at last year's Spiel game fair in Essen (see "
'Kingdom Builder'
"). Queen Games recently awarded exclusive distribution rights in the U.S. to ACD Distribution (see "
Queen Crowns ACD
").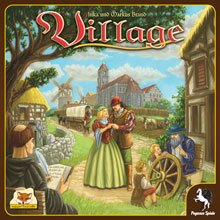 In addition to the main Spiel des Jahres award, two other games were honored by the jury. This year, the Kennerspiel des Jahres was given to
Village
, designed by Inka and Markus Brand and published by Pegasus Spiele. This award recognizes excellence in games intended for experienced game-players and gaming enthusiasts. This is only the second game honored with this award.