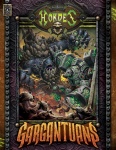 Privateer Press will release a new rulebook featuring larger-than-normal warbeasts for its Hordes miniatures table-top game. Gargantuans will be available starting in March, 2013.
Hordes: Gargantuans will include the rules needed to play with the new Gargantuan warbeast models. The book will also feature new warlocks, units, and solos to use with the existing factions, as well as new fiction, painting and modeling guides, and specialized "Theme Force Lists" for the new warlocks.
The new book will be available in both softcover and hardcover versions. Both books are 160 pages with full color throughout. The softcover version will have a suggested retail price of $34.99, while the hardcover version will go for $44.99.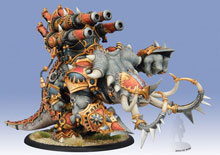 The first of the new Gargantuan models, the
Skorne Mammoth
, is also scheduled to release in March. Retailers may order a
Hordes: Gargantuan
Book Release Event Kit
, including a set of six metal coins to support the release.