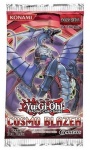 Konami Digital Entertainment has announced the upcoming debut of
Yu-Gi-Oh! Cosmo Blazer
, a boosters-only release that will be available at hobby stores and retailers nationwide on January 25th.
Cosmo Blazer
is the third set in the CCG's 8th series, following
Abyss Rising
(see "
Fall 'YGO!' Releases
" for info on
Abyss Rising
).
Cosmo Blazer
includes the latest cards from the
Yu-Gi-Oh! Zexal
anime that is currently airing on the Vortexx Saturday morning block on the CW network.
The Cosmo Blazer Booster Packs will carry an MSRP of $3.99. The entire Cosmo Blazer set includes 100 cards (48 common, 20 rare, 14 super rare, 10 ultra rare, and 8 secret rare). The theme of the Cosmo Blazer set is "fire," and duelists will definitely want the fiery versions of the game's mythica creatures that this set contains. Ultra rare cards such as "Tiger King" and "Artorigus King of the Noble Knights" will give duelists a decided edge.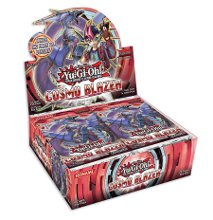 The potent cards from
Cosmo Blazer
can help duelists revive older decks as well as support current decks such as "Mermail," "Beast Warrior," and "Gladiator Beast." Duelists interested in an early look at
Cosmo Blazer
can see if they are in the vicinity of an Official Tournament Store that is hosting a
Cosmo Blazer
pre-release event during the weekend of January 19th and 20th.