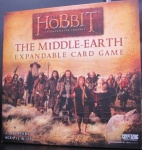 Cryptozoic Entertainment has announced plans to produce a series of card games based on the popular "Middle Earth" of J.R.R. Tolkien and the films inspired by his books. The Hobbit: An Unexpected Journey Expandable Card Game will be the first offering, which will also include games based on the larger The Lord of the Rings series. This will be a competitive game for two to four players. Each player will have a deck of heroes or villains, which is used to confront various encounters, perform "deeds," and earn "Story Points" needed to win the game.
Cryptozoic COO Scott Gaeta described the format of the game series to ICv2 at New York Toy Fair:
"This is part of a larger Middle Earth line where both The Hobbit and The Lord of the Rings content will be explored. The starters will have four decks in the box, where you get two good guy and two bad guy decks. Over the course of the year, every few months there will be $15 expansion packs that will give you cards around a specific theme. Both The Lord of the Rings and The Hobbit content will have a common card back and will all be compatible so you can build your own customizable decks within the Middle Earth world."
Each of the Middle Earth films will be the focus for a Starter Set, which will have four ready-made decks and nine adventure locations. The first of these Starter Sets will be The Hobbit: An Unexpected Journey, with The Fellowship of the Ring scheduled to follow. Cryptozoic plans to produce one Starter Set and two of the smaller expansion packs for each film.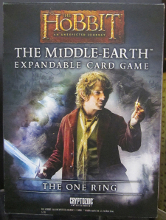 Middle Earth: The Expandable Card Game
and all of the expansions will not be a "collectible" game; the cards included in each set are fixed, not random. But players are able to construct their own decks of cards, drawing from the various starter sets and expansions. This is a format made popular by the "Living Card Games" published by Fantasy Flight Games.