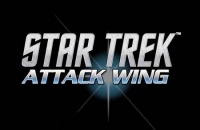 WizKids has announced plans for Star Trek: Attack Wing, a new board game in its Star Trek HeroClix line-up. The new game will be played with ship miniatures, using the FlightPath maneuver system from the Star Wars X-Wing CMG under license from Fantasy Flight Games. It will be released late this summer at Gen Con Indy.
Despite the shared mechanic, the Star Trek: Attack Wing game is a stand-alone game that is not compatible with Fantasy Flight's FlightPath games, according to a WizKids spokesperson.
Star Trek: Attack Wing will be sold in a non-blind configuration, with three-figure boxed starters and single figure (visible) expansion packs.
Players will take the roles of commanders who can customize, upgrade, and assign famous crewmembers to their fleets. Fleets will have special stats and abilities, and unique maneuvers on separate HeroClix Combat Dials.
Games will be played on Star Trek space maps distributed via an organized play program.