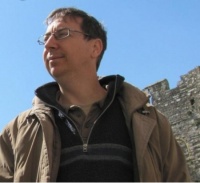 Charles Ryan has joined Monte Cook Games as Chief Operating Officer, the company announced. Cook and Ryan became friends while both were at Wizards of the Coast, where Ryan eventually became global brand manager for
Dungeons and Dragons
. In his new role, Ryan will hand the entire business aspect of Monte Cook Games, including marketing, production, operations, and licensing.
His first big test will be launching
Numenera
, Cook's new roleplaying game, which had a hugely successful Kickstarter (see "
Monte Cook's New RPG at Over $300K
") that ended up at over $500,000. The company has announced a release date of August for the 416-page
Numenera Player's Guide
hardcover. And the RPG release is to be coordinated with the release of Alderac's
Numenera Thunderstone
deck-building game mash-up and other licensed products.
Ryan will also be managing the relationship with inXile, which is producing a sequel to
Torment
set in the
Numenera
world (see "
'Numenera' in 'Torment' Sequel
"), funded by a $4 million Kickstarter.
Also promised under the new management structure is a more aggressive release schedule, including additional major releases, and more licenses for
Numenera
.