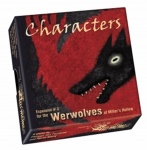 Asmodee has announced plans to release
Werewolves--Characters
, the third expansion for
Werewolves of Miller's Hollow
party game in North America on August 30th.
Like
Mafia
and
Werewolf,
players are secretly assigned roles, with some players taking the roles of werewolves. The werewolves work together during the night phase to eliminate other villagers, but must keep their identities hidden, lest they be executed during the day phase. Some of the village residents are ordinary; some have special abilities that help them track down the werewolf players. After the daytime deliberations, one player is 'lynched,' their identity revealed and they are out of the game.
Designed by Philippe des Pallieres & Herve Marly, the expansion contains 24 new cards, and requires the
Werewolves of Miller's Hollow
base game to play. The game is for 8 - 28 players, ages 10 and up, and plays in about 45 minutes. MSRP is $ 12.99.
There are two previous expansions for the game:
Werewolves: New Moon
(which features 5 new characters and 36 event cards) and
Werewolves: The Village
(which is a stand-alone, upgraded version of the original game). Compatibility with these expansions was not mentioned.