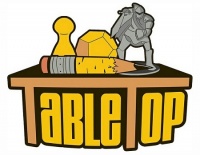 The "TableTop Bump," the increase in sales for titles featured on Geek & Sundry's TableTop series, is a formidable force, with sales on titles from the first season up a whopping 79% on average, according to an analysis by Alliance Game Distributors, shared with ICv2.

The average bump for titles featured in the second season, which had not completed at the time of this analysis, was 44%. It's too early to say whether that indicates that the second season is having a smaller impact. Unlike broadcast or cable shows, TableTop episodes are perpetually available, and build audiences over time. And it may also be that expansion of sales of games leads to further expansion down the road in a virtuous circle, as networks of players form, and new players in the network begin to buy games too.

There has been some increase in the game market not attributable to TableTop, so it's possible that some of the increased sales on these titles would have happened even without being featured on the show. But given the numbers, it's pretty clear that the show has a substantial impact on sales.

We added views to date for each episode, to see if those had an impact, but there does not appear to be a direct correlation between the number of views and the percentage increase in sales. For example, three games featured on the same episode, originally aired on May 4, 2012, had sales bumps ranging from 20% to 200%.

The Alliance Game Distributors sales increase is measured from a baseline three months before the original release of the TableTop episode, and compared to a recent rolling three month average. A handful of games were not included because Alliance didn't carry them at some point during the analysis or for other reasons.


Percent Increase in Sales for 'TableTop' Titles

Bump

Manufacturer

Game Name

Air Date

YouTube Views

(as of 10/29/13)

Season One

100%

Days of Wonder

Small World

3/30/2012

1,236,666

40%

Mayfair

Settlers of Catan

4/20/2012

675,062

20%

Calliope

Tsuro: The Game of the Path

5/4/2012

1,005,141

200%

Mayday Games

Get Bit

5/4/2012

1,005,141

20%

Steve Jackson

Zombie Dice Game

5/4/2012

1,005,141

120%

Days of Wonder

Ticket To Ride

5/18/2012

650,846

30%

Steve Jackson

Munchkin Card Game (2010 Revised Ed.)

6/1/2012

978,312

10%

Steve Jackson

Munchkin Deluxe

6/1/2012

978,312

90%

Fireside

Castle Panic: Board Game

6/15/2012

505,767

20%

Atlas Games

Gloom

6/29/2012

550,593

300%

Bully Pulpit Games

Fiasco RPG

7/13/2012

504,493

20%

North Star Games

Say Anything

8/9/2012

414,443

300%

Fantasy Flight

Elder Sign

8/23/2012

694,355

100%

Asmodee

Dixit

9/6/2012

409,846

30%

North Star Games

Wits and Wagers: 2nd Edition

9/21/2012

422,950

10%

Flying Frog Productions

Last Night on Earth: The Zombie Game

10/18/2012

581,698

40%

Looney Labs

Star Fluxx

11/1/2012

454,886

30%

Steve Jackson

Chez Geek: House Party Edition

1/17/2013

326,122

30%

Green Ronin

Dragon Age RPG Boxed Set

1/31/2013

556,304

79%

Season 1 Average

681,899

Season Two

120%

Asmodee

Formula D

4/4/2013

370,102

40%

IndieBoardsandCards

Resistance (2nd Edition)

4/18/2013

615,366

60%

Atlas Games

Once Upon a Time: 3rd Edition

5/2/2013

312,655

20%

IELLO

King of Tokyo

5/16/2013

390,883

50%

Gamewright

Forbidden Island

5/30/2013

298,383

10%

Alderac

Smash Up

6/13/2013

291,320

10%

Fantasy Flight

Star Wars X-Wing Miniatures Game: Core Set

8/8/2013

381,832

44%

Season 2 Average

380,077