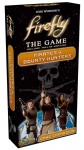 Gale Force Nine has announced the release of
Firefly: The Game -Pirates & Bounty Hunters
, the first full expansion for its popular
Firefly
board game, in March.
Pirates & Bounty Hunters
introduces a lot of player-vs-player interaction to the game. Players can raid rivals' ships cargo with piracy jobs, or hunt down wanted fugitives (or other players' crew) for bounties. The expansion also includes new Supply and Story cards, two new Leaders, the new Bounty deck, and two new ships. MSRP is set at $29.99.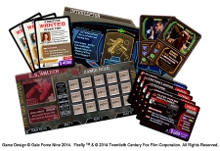 Since the launch at Gen Con,
Firefly: The Game
has sold over 30,000 copies and is currently in its third printing. GF9 plans a UK printing, as well foreign language translations in the next year. The first Game Booster
Firefly: The Game--Breaking Atmo
, will release this month (see "
'Firefly: Breakin' Atmo'
").