Fantasy Flight Games and CD Projekt RED have announced
The Witcher Adventure Game
, a board game set in
The Witcher
computer game and book universe, for 2014. The book series came first, and the action RPG, hack and slash computer game, developed by DC Project RED, was first published by Atari in 2007.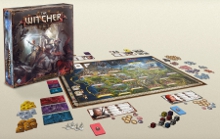 Designed by Ignacy Trzewiczek (
Robinson Crusoe: Adventure on the Cursed Island, Stronghold, 51st State
), based on the universe created by novelist Andrzej Sapkowski, the game has players assume the roles of one of four characters from the series and complete quests and missions while interacting with characters from the world. Players must work cooperatively, but there can be only one winner. The game is for 2 – 4 players, ages 16 and up, and plays in 120 minutes. Specific box contents, release date, and MSRP have not been announced.