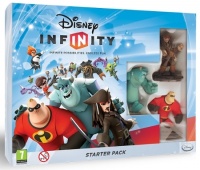 Disney has sold three million
Starter Packs
for its
Infinity
game, which combines collectible figures with video game elements (see "
Disney Launching Collectible Game Figures
"), since launch, according to the
New York Times
. The MSRP is $75 apiece (for a $225 million total), but even at discounted prices that adds up to a healthy $150 million plus at retail. The game launched in August, after being delayed from its original launch date of June.
Disney also released figure packs from numerous properties, including
Nightmare Before Christmas, Frozen, Cars, Toy Story, Lone Ranger, Mickey Mouse
, and more, contributing more dollars to the total.
Disney's
Infinity
has not yet dethroned Activision's
Skylanders
, the original game in the category, according to the report, which said that the third installment of the
Skylanders
series narrowly outsold the
Infinity
launch products in December.
Although the new video game/ miniature hybrids do not appear to be affecting the tabletop games business, they may be having an impact on action figure sales, which have been in decline (see "
Action Figures in Decline
").