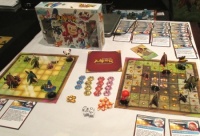 Japanime Games has an ambitious release schedule planned for the first half of 2014 for its
Krosmaster
board game series, based on the online game, according to Japanime owner Eric Price, who shared release plans at Toy Fair. Japanime also plans to launch organized play for Krosmaster beginning in April (see "
'Krosmaster' OP"
).
At Origins in May, Japanime will release
Krosmaster Junior
, a simpler version of
Krosmaster Arena
, aimed at younger players (ages 7+), and targeted for mass market sale. The game will include four new character figures, simplified rules, and progressive scenarios, much like the
Krosmaster Arena
rulebook. The box includes 2 double sided game boards, 30 XL scenario cards, the figures and
Krosmaster
cards for those figures, and a
Krosmaster
membership card for players to start an online account. MSRP is tentatively $50.00. The figures can also be used in the
Krosmaster Arena
game.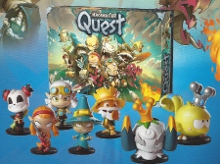 The second stand-alone game,
Krosmaster Quest,
is planned for June release. Unlike the head-to-head battles of
Arena
, this game can be played cooperatively or as a competition, as players look for treasures on tiled boards. The box includes 7 new Krosmaster figures with character cards (2 exclusive), more than 600 pieces, 16 terrain parts (which can be used in
Arena
), more than 40 settings, 6 special dice. The game is for 2 – 6 players and tentative MSRP is $90.
A set of 32 new characters will be released for the
Quest
game in blind boxes in May. The figures will be packaged 24 to a case, and come in common and uncommon rarity schemes. Blind boxes will be used for sealed events in organized play.
Another series of blind box figures,
Dofus Krosmaster Season 2,
are planned for release in April (
Krosmaster Arena
is the real-world counterpart to the MMORPG's
DOFUS
and
WAKFU
.) There are 32 figures, and each comes with its own characteristic cards and a unique code to unlock the character in the online game. All figures are usable with
Krosmaster Arena
and
Krosmaster Quest.
Dofus Krosmaster Season 2
window box figures will also be available in four packs in April. Each pack includes 4 figures, 4 cards, 1 code and 4 bonus punchboards. The window boxes with 16 common figures will also be available in two-packs in September.
In April, the
Krosmaster Arena: The Not Mines
extension will be released. The expansion will include a double-sided game board and two new punch boards which allow characters to travel in mine carts as they move around a track on the board.
Japanime also plans
Duel Packs
and
Multiman
Packs
this spring, timed to release just after the
Krosmaster: Arena--Frigost
extension in March (see "
'Krosmaster: Arena--Frigost'
"). The
Duel Pack
comes with two exclusive figures, two dice, and a fold out board, which functions as a starter kit for players to battle right out of the box. The
Multiman Pack
includes six figures and their character cards, as well as three mini-maps to play with.