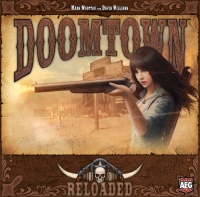 The Alderac Entertainment Group has announced the August release of
Doomtown: Reloaded
, a new expandable card game designed by Mark Wooton and David Williams.
Doomtown: Reloaded
returns to the setting of Gomorra, California, the classic "Weird West" venue created by Williams in his 1998 Origins Award Best Trading Card Game winner
Deadlands: Doomtown
, which itself was based on the
Deadlands RPG
setting.
For those who remember the 1998 game,
Doomtown: Reloaded
provides an opportunity to revisit this classic supernatural western environment for all new streamlined adventures, while newer players will find that this easy-to-play game will provide plenty Weird West action.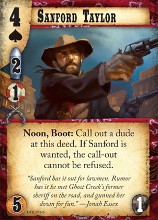 Doomtown: Reloaded
features four factions, lots of extra cards, and a Town Square player aid. The game uses poker mechanics--the best hand in a shootout determines who lives or dies--though death may be only temporary in this Weird West environment where not everyone who is buried in Boot Hill actually has to stay there.