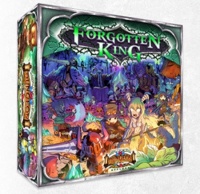 Soda Pop Miniatures has completed another successful Kickstarter funding campaign, netting $1,151,889 from 6,589 backers to fund the new companion board game
Super Dungeon Explore: Forgotten King
. It is Soda Pop's first solo publishing product since they recently ended their publishing arrangement with CoolMiniOrNot (see "
Soda Pop Minis and CoolMiniOrNot End Publishing Deal
"). It fell just short of the Top 10 Tabletop Kickstarters (see "
Top 10 Tabletop Game Kickstarters
"), a sign of how difficult it is now to crack that list.
A stand-alone companion game for the anime-styled, hack and slash dungeon exploration board game
Super Dungeon Explore
(see "
'Super Dungeon Explore'
"),
Forgotten King
takes place in Crystalia, and the heroes must journey to the dungeon and destroy all the spawning points for monsters raised by the Dark Consul. When the spawning points are destroyed, they create a mini-boss which must be defeated to earn loot, treasure and princess coins. The game contains two play modes, Classic and Arcade.
The game will contain 57 preassembled miniatures, 6 double-sided dungeon tiles, counters, game cards and a rule book. Soda Pop Miniatures confirmed that the game is projected for December release, after backer fulfillment. Tentative MSRP is $100.00.
Soda Pop Miniatures has also released expansions for
Super Dungeon Explore
, including
Caverns of Roxor
(see "
'Dark Age' and 'Super Dungeon Explore' Expansions
") and
Von Drakk Manor
(see "
CoolMiniOrNot's Expansions
").