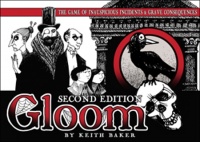 Atlas Games has shared information on its planned late summer release of a new edition of the popular card game
Gloom
.
Gloom 2nd Edition
will feature new packaging and art as well as streamlined rules and icons, with the hope that the improvements will make the game even easier to learn and play. The new edition is completely compatible with the first edition's core game and all first edition expansions. The expansions, which include
Unhappy Homes
,
Unwelcome Guests
, and
Unfortunate Expeditions,
are also in the process of second edition reprints. All new reprints will bear a "2nd Edition" marking, as well as updated stock numbers and ISBNs. MSRP on the core game will be $24.95, and the expansions will be $14.95.
Gloom
was a major recipient of the "TableTop Bump," as sales increased to the point of sellout and reprints after it was featured on Season 1 of the show (see "
'Gloom' Sales Booming
" and "
The 'TableTop' Bump
").