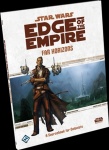 Fantasy Flight Games will release a new sourcebook for its
Star Wars: Edge of the Empire
roleplaying game.
Star Wars: Edge of the Empire: Far Horizons
will release in August.
The 96-page
Far Horizons
sourcebook focuses on Colonist characters, but will include new talents, gear, spaceships, settings, and species for all players and GMs. There are three new specializations for Colonist characters (Entrepreneur, Performer, and Marshal). MSRP is $29.95.
The most recent book release for
Edge of the Empire
was March's
The Jewel of Yavin
adventure book (see "
Second 'Star Wars RPG' Adventure
").