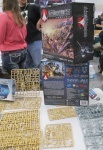 ICv2 caught up with Palladium CEO Kevin Siembieda at Gen Con for an update on
Robotech RPG Tactics
, which was displayed at the show. While the finished product was on display, there was none on sale due to a hold-up at the Port of Long Beach in customs.
Click any image for larger view.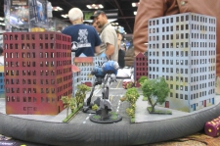 The first container has landed in the U.S., but has not yet cleared customs, Siembieda told us, with additional shipments to follow. The first product to arrive at the Palladium warehouse will be used to fulfill orders from Kickstarter backers, and shipments to the trade will follow, probably arriving around the first week of October. Pre-orders were strong, according to Siembieda.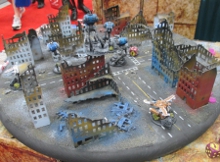 The first product was most recently scheduled to arrive in July or August, after delays in production, with six expansions to follow (see "
More 'Robotech RPG Tactics' Delays
").
Robotech RPG Tactics
is the #8 all-time Top Tabletop Game Kickstarter Project (see "
Top 10 Tabletop Game Kickstarters
").