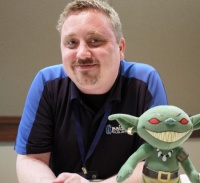 We caught up with Paizo Publisher Erik Mona at Gen Con for a brief update on the RPG market now that big changes are underway, and to get the latest on digital versions of Pathfinder games. We last talked to Mona about these topics in an extended interview in April (see "Paizo's Erik Mona: The ICv2 Interview").
Now that you're into it, do have any comment the state of the RPG market, now that we have a big, new launch happening?
I'm seeing increased excitement across the board for RPGs in general. Our sales August to August are up. We're seeing more enrollment and participation in Pathfinder Society organized play. I am subscribing to the "rising tide lifts all boats" philosophy.
The category had really shrunk down so there's a lot of room to grow.
It's nice to have more than one big player taking a serious shot at trying to do a great RPG business and we're seeing other smaller ones coming up so it's really exciting.
We've been hearing more about RPGs below the big two as we talk to retailers and distributors.
Absolutely, it's what I hear from everybody, honestly. It's going to be interesting to compare notes after this show, but we're really enthusiastic about the future.
You announced a new digital game license. Can you give us the info on that?
We just announced a new partnership with Obsidian Entertainment, and they are doing the digital version of the
Pathfinder Adventure Card Game
. The
Rise of the Runelords
edition that we put out last year at Gen Con (see "
'Pathfinder' Deck-Building Game
") has been such a popular game for us. They've been playing it in their offices and love it. We're going to be doing multiple games but the first one is the
Adventure Card Game
.
What else have they done?
They've done all kinds of awesome stuff. They've done
Fallout: New Vegas
, they did the
South Park: The Stick of Truth
console game. A lot of people working there have a background with
Neverwinter Nights
,
Baldur's Gate
, a lot of the big computer RPG games. They're all gamers so they'll put a lot of love into this iteration and we're super excited about it.
While we're on the topic, what's going on with the Patherfinder MMO?
That's from Goblinworks, and it's in alpha playtest right now. It's not associated with Obsidian; it's a different studio. They have early alpha players playing it right now and are getting feedback. It's going to launch in 2015.
Is that on schedule?
Remarkably, yes.
When is the Obsidian game coming out?
2015.