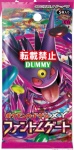 The Pokemon Company is planning a November 5th release date for the
Pokemon CCG: XY--Phantom Forces Expansion, which
will be available in boosters, sleeved boosters, and theme decks
. Phantom Forces
is the fourth major expansion for the English
XY
series. It follows right on the heels of the
XY--Furious Fists
release, which just shipped in August (see "
'Pokemon CCG: XY--Furious Fists'
").
The 110-card
Phantom Forces
set continues to feature Mega Evolution as powerful Pokemon-EX and centers around the Shadow Pokemon Gengar. The English set includes the 88 cards of the corresponding Japanese "Phantom Gate" release, the Japanese
Hyper Metal Chain Deck
, and various promotional cards to make up its total of 110 cards.
The
Phantom Forces
expansion will include potent 6 Pokemon-EX and two Mega Pokemon-EX. It brings in Dialga-EX and Aegislash-EX from the Japanese
Hyper Metal Chain Deck
and includes them with 4 Pokemon-EX from the Japanese
Phantom Gate
set, Gengar-EX, Manectric-EX, and two others. The expansion also includes a new mechanic card named "Spirit Link" that allows Mega Pokemon to evolve without ending the player's turn.
The
Phantom Forces Booster Box
contains 36 ten-card booster packs, while the
Sleeved Booster Master Carton
contains 144 ten-card sleeved booster packs, and the 60-card
Phantom Forces Theme Deck
come packed eight to a box. Each 10-card
Booster
and
Sleeved Booster Pack
has an MSRP of $3.99, while the 60-card
Theme Decks
have an MSRP of $12.99.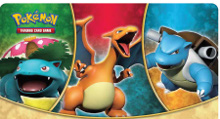 Two additional
Pokemon
products are shipping in October. The
EX Power Trio Tins
are set to street on October 14th. Each tin contains one Pokemon-EX of the Kanto starter final evolutions, which are Venusaur-EX, Charizard-EX, or Blastoise-EX and 4
Pokemon
booster packs.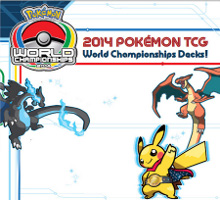 The second October release, which is slated for late in the month, is the
2014 World Championship Decks
. There are four decks to choose from, each one a card-for-card replica of an actual title-contender's deck from the 2014 World Championships. Each
2014 World Championship Deck
comes with a World Championships 2014-themed Deckbox, a booklet about the championships, a non-tournament-legal print of the sixty-card deck, and a
2014 World Championships Pin
.