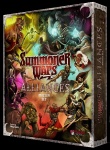 Plaid Hat Games will release a new master set for the
Summoner Wars
deck-building game,
Summoner Wars: Alliances Master Set,
in January 2015.
The 16 original factions in
Summoner Wars
are paired up to create eight alliance decks (Cave Filth, Deep Benders, Fallen Phoenix, Jungle Shadow, Sand Cloaks, Swamp Mercenaries, Tundra Guild, and Vargath Vanguards). The factions and cards in this product are unique to this set. The box includes card dividers and will accommodate sleeved cards, as well as having extra room to store other
Summoner Wars
products.
The box contains: 8 faction decks, 56 deck dividers, 5 six-sided dice, 20 wound markers, a neoprene game mat, and a rulebook. The game is for 2 players, ages 7 and up, and plays in 30-60 minutes. MSRP is $59.95.